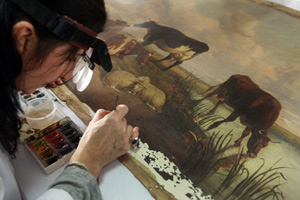 All paintings age over time, and the aging process affects the supporting structure, paint and original or later consolidation and repair treatments. Paintings can be damaged by hanging, transportation, impact and environmental damage and previous repairs.
Decowell provides a full professional conservation and restoration service for museums, public and private collections, and individuals. We have experience of working on oil paintings on canvas, panel, enamel, glass and bone from the sixteenth century to the modern day.
Conservation works are carried out in our fully equipped secure studio, and, for larger works, can also be carried out in-situ. Prior to undertaking a commission, we will complete an initial condition report, outlining proposed treatment and estimate. All treatments are fully documented throughout the conservation process, and paint analysis is carried out where necessary.
Treatments include:
Consolidation of flaking paint.
Cleaning and removal of surface and ingrained dirt, old and discoloured varnish and over-paint.
Canvas repair, including patching or relining.
Filling of losses using gesso or acrylic consolidant.
Retouching areas of damage and loss with appropriate surface preparation.
Consolidating varnish using traditional and modern reversible resin varnishes.
Paint analysis.